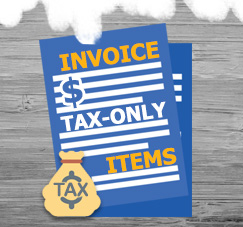 Sometimes, you want to give your customer free-items, but that items still need to be calculated for the tax, depends on your country rules. You don't need to create a separate invoice, just follow these simple steps:
Open A/R Invoice menu (or A/P Invoice), click copy from button and select your Delivery Order as your base document.
Then, add another item (bonus item/ free item) on your invoice details.
If you slide to the right side of the details, you can see "Tax Only" column. If it's still not there, you can set visible that column from "Form Setting" icon on menu bar.

Please tick "Tax Only".
And add your invoice, system will automatically adjust the tax total amount only for item with tax % > 0, and for item with "Tax Only" ticked.

Local Currency = USD, BP Currency = EUR.
Total tax = EUR 29.02, with the Document Rate = 1.3.
Here's the calculation:
Item No.
Item Description
Qty
Unit Price
Tax Code
Tax %
Tax Amount
Total (Doc)
Tax Only
C00002
Motherboard MicroATX
2
$375.00
Exempt
0
0
EUR 576.92
N
I00001
Blu-Ray Disc 10-Pack
1
$3.75
NH
6
$0.23
EUR 2.88
Y
C00007
Hard Disk 3TB
1
$625.00
NH
6
$37.50
EUR 480.77
N
Total Before Tax
EUR 1,057.69
Total Tax (USD)
$37.73
Total Tax (EUR)
EUR 29.02
Converted to EUR = 37.73 / 1.3 = 29.02
NOTES: These tips are available in both A/P documents and A/R documents.