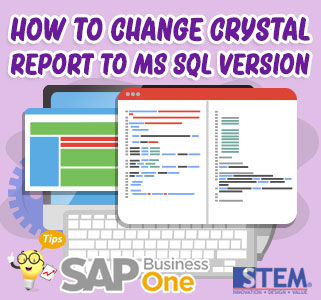 There are some conditions when you only get Crystal Reports with HANA Versions Query, and later those Crystal Reports want to be used on SQL Version Query, and you don't need to change any value or field, you just need to change Data Source Version.
These tips will help to finish convert your crystal report faster. But first, the query needs to converted first, before trying the following steps. You can convert queries using any converter tools or do it manually.
Either you are using Stored Procedure or common Query as Data Source, you need to convert Stored Procedure from HANA Version to SQL Version, or vice versa.
Open the SAP Crystal Report for SAP Business One.
Go to Database → select Set Datasource Location.
Choose Command on Current Data Source box, and in Replace with: choose Add Command  → press Update.
Put your store procedure or query in the SQL Query box as the picture below. Don't forget to re-create the parameter needed on this report or form, they will not re-create themselves.
Then press OK, and if there is no error on your query or Stored Procedure, it will proceed to the next windows.
Input the parameter to proceed to the next step as the picture below, and if there is no error, proceed to the next step.
Press Print Preview or you can press shortcut F5 to check whether your conversion attempt is successful or not.
If there are no errors, then your attempt is successful. But if there is an error please check again the query and parameter you try to convert.
Also read:
Most Viewed Posts