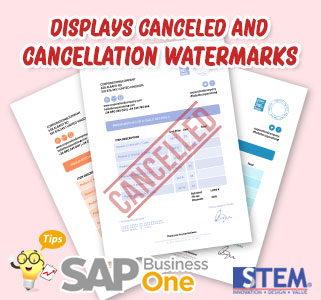 In SAP Business One, we can cancel a document, and some documents when canceled will also produce a cancellation document (example: Delivery documents, Good Receipt PO, etc.). Therefore, the printed results require Cancelled Watermark (on the canceled document) and Cancellation Watermark (on the cancellation document).
Here is how to display Canceled and Cancellation Watermark:
In SAP Business One main menu, select Administration menu > System Initialization > Print Preferences.
Then the Print Preferences screen will appear and check 'Print Canceled or Cancellation Watermark on Applicable Documents'.
And Then Click Update.
If it's checked on 'Print Canceled or Cancellation Watermark on Applicable Documents' the result will be like this:
For canceled document
For Cancellation Document
Most Viewed Posts