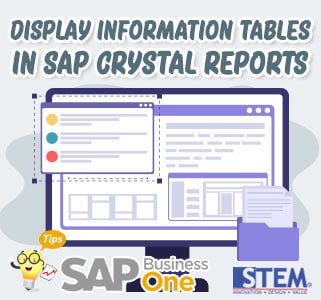 To display information tables in SAP B1 Data Sources, you must find out the table information of a specific SAP Business One window, pane, or field before in the SAP Business One menu bar, choose View → System Information. Then, by moving your cursor around the window, you can see the window's table information displayed in the SAP Business One status bar at the bottom of the screen. In the example below, the table is OINV and the Name field that the cursor is pointing to is based on the CardName column of the OINV table.
When selecting tables from an SAP Business One data source, you can display the table information as follows :
In the Database Expert window, in the Available Data Sources pane, right-click a Connection → choose Options.
In the Options window, in the Tables and Fields area, select the Show Both radio button.
Choose the OK button.
A description is shown for each SAP Business One table in the hierarchy tree as shown below.
Also read:
Most Viewed Posts