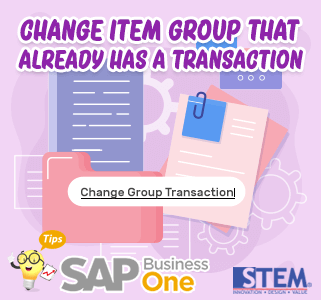 Sometimes when inputting a new item master we might make mistakes such as incorrect setting of Group items. If there are no transactions, we can immediately replace them with the correct item group, but what if there are already many transactions on that item?
Here are the things to consider and do if you want to replace the item group on items that already have a transaction
Open the Item master data window and find the item whose item group you want to change, then on the Inventory data tab, see the Set Inv column.

Method by, if the contents are not an item group then it can be changed immediately because there is no effect on the journal (For Reports that use the Item group there might be changes in value)

If the Set Inv column.

Method by is set to item group then Tick first for the Stock Item per warehouse

After getting Stock Item positions in each warehouse,

make sure there are no current / pending transactions for these items during the steps below

The next step is to spend the stock items through the Inventory menu -> Inventory Transactions -> Good Issue.

Input data items based on the last stock position per warehouse (per Bin if using Bin)

After All Stock has been made Zero through Good Issue then return to the Item Master data window then change the item group

After changing the Group items, open the Inventory menu -> Inventory Transactions -> Good Receipt.

Return All Stock items as before through the Good receipt menu.
After completing the steps above, we can check for transactions that occur after inputting the Good Receipt posting will use the account set in the new item group, but for the previous transaction will remain in the old item group account but the balance is has been spent on Good Receipt and transferred to the new item group account when doing Good Receipt