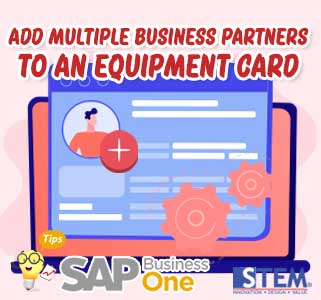 In SAP Business One, if there are items that involve more than one business partner, all these business partners can be added to the Equipment Card. For example, the provision of facilities in the form of projectors that are shared by several companies as members of a corporate group and are still in the same office building. In one equipment card for the projector, several companies can be recorded that share the use of the projector. By default, SAP Business One only allows one Equipment Card document to be linked to one business partner. Here's how to add several business partners to one Equipment Card document.
On the SAP Business One main menu, select Administration -> System Initialization -> Document Settings
On the Per Document tab, select the Equipment Card document.
Then check "Add Multiple Business Partners to an Equipment Card" and click the Update button.

Open the Equipment Card document via the menu Service -> Equipment Card. Then press the button marked with a red box as shown in the picture.

Then select a business partner from the list provided by pressing the button marked with a red box as shown in the picture.

Note: Available on SAP Business One 10.00 PL02 and SAP Business One 10.0, version SAP HANA PL02.3221t
Also read:
Most Viewed Posts