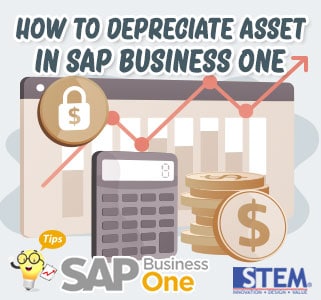 Each asset must have depreciation or depreciation in use value such as office equipment, equipment, machinery and others based on its useful life. In SAP Business One, we can easily depreciate automatically based on the period when the asset was created or when the asset was purchased. However, what if the asset wants to be depreciated in a certain period? To do this, you can depreciate manually:
Open the asset you want to depreciate on the Financial menu > Fixed Assets > Asset Master Data.
We can see here that the Depreciation Start Date cannot be filled because the depreciation has not yet taken place.
Record the Asset Class that used on these assets.
Next, open the Administration menu > Setup > Fixed Assets > Account Determination.
In the Code field, input (*), then click Find button.

In the List of Fixed Assets Account Determination window, select the Account Determination or Asset Class that have been previously recorded, then click Choose button.

The Acquisition Clearing Account field is required because the Acquisition Clearing Account field is the GL that will be used to carry out the acquisition.
Click the Update button.
Open the Financial menu> Fixed Assets > Capitalization.
In the Capitalization menu, in the Depreciation Area field, input (*).
Masukkan informasi lainnya seperti tanggal dan tahun posting.
Pada Asset No. masukan asset yang ingin dilakukan depresiasi lalu klik tombol Choose.

Input the Amount and Qty of Asset for which it is depreciated,  then click Add.

Enter back into the Asset Master Data menu, select the asset that has been depreciated before, then select Fixed Assets Tab.
We can see here, the Depreciation Start Date is filled in and you can also change it according to the period when the depreciation is carried out.
Also read:
Most Viewed Posts