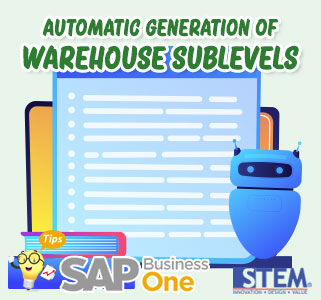 In the previous article, it was explained how to create a Warehouse Sublevel.
But what if there are too many sublevels you want to create? so it can be confusing if inputted one by one.
Did you know SAP Business One allows automated batch creation of Sublevel codes?
For Example:
Carlos created 10 Rows with the prefix "AISLE-" AISLE-01 to AISLE-10.
In order to combine this code structure, Carlos did the following:
In the first segment field, he chose fixed and entered the value "AISLE-"
In the second segment field, he chose "Numeric" and entered the values 1 to 10
The system automatically added leading zeroes to match the longest number length.
Leading zeroes enable optimal alpha-numeric sorting.
You may create a more complicated code by defining up to 6 segments of a Sublevel code.
Here are the steps to create Automatic Generation of Warehouse Sublevels
In the Warehouse Sublevel Codes window, choose the Manage Sublevels Codes button to open the Warehouse Sublevel Code Management window.
Fill in the Range of Codes.
Choose the OK button to open the Generation Preview window.
the Preview window was opened.
In this window, you can review the codes that are about to be generated.
You can also see if there is an error associated with one or more codes.
codes with error messages will appear in red. In the image above you can see the codes appear in red and all have an error message saying the code already exists.
Choose the Generate button to add the codes that appear in the preview window with no error message.
Note: All generated codes will be in uppercase.
Also read:
Most Viewed Posts