There's a lot of unit of measure (UoM) types that must be set on SAP. There's Inventory UoM, Inventory Counting UoM, Sales UoM, Purchase UoM, UoM Group. But first of all, just make sure that you already set for a default UoM for Length and Weight.
On Administration – System Initialization – General Setting, open tab Display.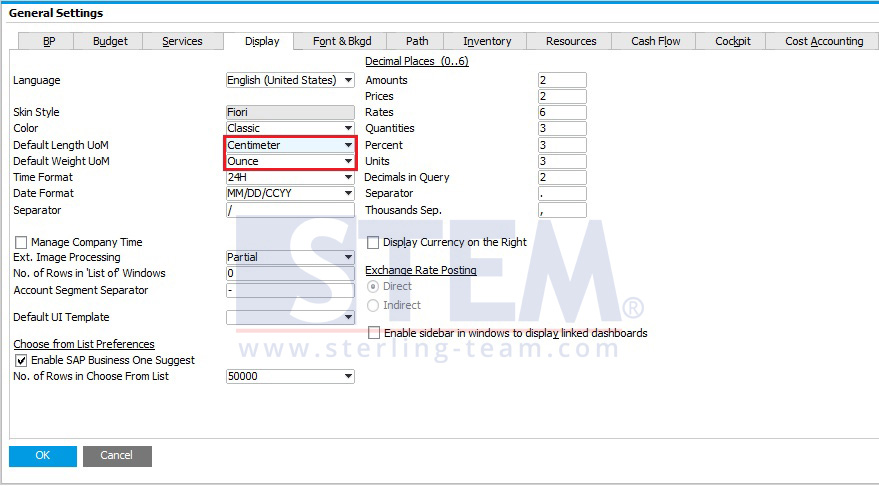 And another tip, we know that sometimes you need to query to OITM (Item Master Data) but have some difficulties when you need to know about the details of unit of measure, you don't know any fields name, you already activate System Information feature (Ctrl +Shift + I) but there's no useful result.
Now, open one of your master data that ticked as Sales Item (for example), open tab Sales Data.
You want to know what is the displayed name of your volume measurement or weight measurement. You can use OLGT for check the displayed name for LENGTH, or OWGT for check the displayed name for WEIGHT, you can use this simple query (execute with Query Generator):
[SALES DATA]
SELECT T0."ItemCode", T0."SVolUnit", T1."VolDisply" FROM OITM T0 INNER JOIN OLGT T1 ON  T0."SVolUnit" = T1."UnitCode" WHERE T0."ItemCode" = [%0]
[PURCHASE DATA]
SELECT T0."ItemCode", T0."BWght1Unit",T1."UnitDisply" FROM OITM T0 INNER JOIN OWGT T1 ON  T0."BWght1Unit" = T1."UnitCode" WHERE T0."ItemCode" = [%0]
Here's the fields name for:
Value of Height – Length – Width – Weight Sales Data:
Height 1 – Sales Unit [SHeight1], Length 1 – Sales Unit [SLength1], Weight 1 – Sales Unit [SWeight1], Width 1 – Sales Unit [SWidth1]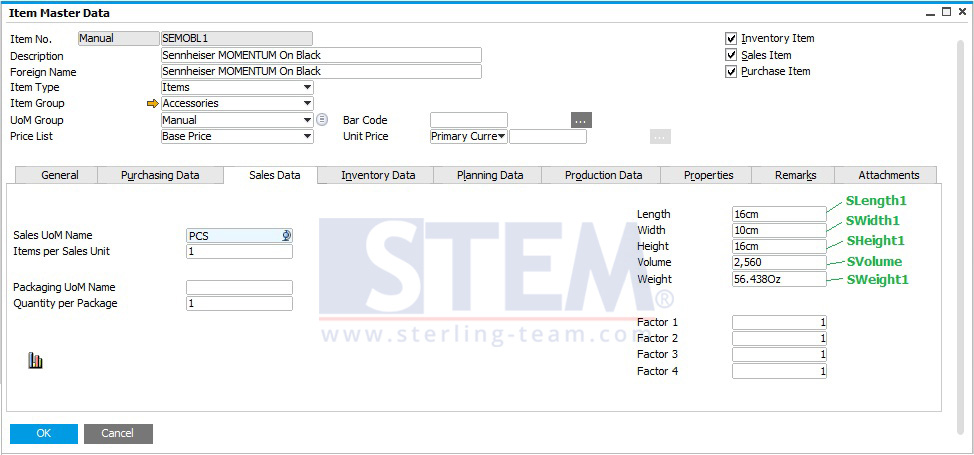 Unit of Measure Sales Data:
Height 1 – Sales Unit [SHght1Unit], Length 1 – UoM for Sales [SLen1Unit], Volume – UoM for Sales [SVolUnit], Width 1 – UoM for Sales [SWdth1Unit], Weight 1 – UoM for Sales [SWght1Unit]
Same with Purchasing Data tab:
Value of Height – Length – Width – Weight Purchasing Data:
Height 1 – Purchasing Unit [BHeight1], Length 1 – Purchasing Unit [BLength1], Weight 1 – Purchasing Unit [BWeight1], Width 1 – Purchasing Unit [BWidth1]
Unit of Measure Purchasing Data:
Height 1 – Purchasing Unit [BHght1Unit], Length 1 – UoM for Purchasing [BLen1Unit], Volume – UoM for Purchasing [BVolUnit], Width 1 – UoM for Purchasing [BWdth1Unit], Weight 1 – UoM for Purchasing [BWght1Unit]
Hope this article will be useful 😊
Most Viewed Posts