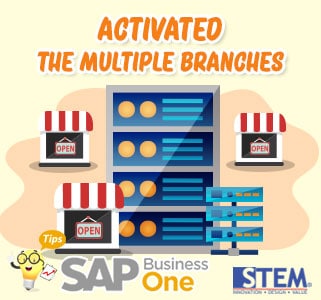 Multiple branches is a feature in SAP b1 that allows us to work between branches in one company database. Each branch can share master data such as users and business partners. However, certain master data can only be assigned to certain branches. The following steps are to activate Multiple Branches:
In SAP Business One main menu, click the Administration menu > System Initialization > select Company details or in the search field, type Company Details.

in Basic Initialization tab, checklist Enable Multiple Branches.
Click Update.
Then a warning will appear that the Multiple Branches feature is a process that cannot be changed, if you are sure then click OK.
Second, a notification will reappear that the system will create a default branch that will be assigned to all transactions. Press OK if you understand.
if you have previously made a transaction before Multiple Branch is activated. To be able to activate multiple branches you must enter the specific code batch registration number to identify this branch before multiple branches can be activated > Then click OK.
Most Viewed Posts