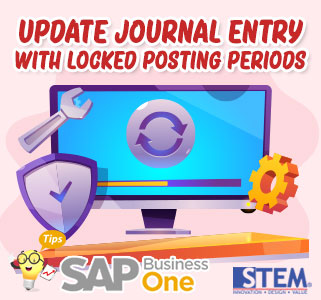 Ketika status posting periods diatur menjadi "Locked", user tidak dapat meng-update dokumen journal entry users cannot update the journal entry documents untuk mencegah user melakukan modifikasi.
Tetapi bagaimana jika beberapa user membutuhkan perubahan atau pembaruan yang sangat penting pada dokumen ini?
Tentunya SAP Business One memiliki solusi untuk mengatasi masalah di atas!
Ketika User memperbarui dokumen Journal Entry saat periode posting diatur menjadi status "Locked", akan muncul pesan error seperti di bawah ini:
Agar dapat memperbarui dokumen Journal Entry ketika periode posting "Locked" ikuti langkah-langkah berikut:
Pada menu utama SAP Business One, pilih menu Administration > System Initialization > Document Setting > pilih tab Per Document.
pada field Document, pilih Journal Entry.
Ceklis "Allow Updating of References, Remarks, and UDF's on Journal Entries with Locked Posting Periods". Secara default, kotak centang ini tidak dipilih.
klik Update.
Users dapat memperbarui field Ref. 1, Ref. 2, Ref. 3, Remarks, dan User-Defined Fields header dan lines pada journal entry yang sudah dicatat saat periode posting diatur menjadi status "Locked".
* Catatan: Tersedia di SAP Business One 10.0 FP 2011 dan SAP Business One 10.0 FP 2011, versi SAP HANA.