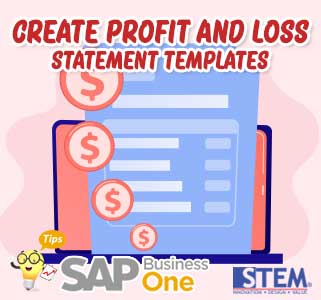 Semenjak SAP versi 9.3, drawer pada chart of account terdiri sampai 10 drawer  yang bisa digunakan, dan biasanya untuk drawer 9 dan 10 tidak digunakan.
Walaupun tidak digunakan, drawer 9 dan 10 tetap muncul pada profit and loss statement, tetapi tidak terisi nilainya.
Jika user ingin profit and loss statement tanpa drawer 9 dan 10, bisa membuat template PL Statement baru dengan langkah berikut :
Akses menu Financial > Financial Report Template.
Pilih report Proft and Loss.
Pilih template dan klik define new.
Isikan nama template PL yang diinginkan.
Klik Update.
Klik 'Generate Standard Chart of Account'
Setelah itu, semua chart of account yang terdaftar akan muncul, lalu pilih drawer # 9 dan # 10.
Klik kanan dan sorot ke 'Advanced'
Pilih 'Delete account'
Klik 'Update'.
Setelah selesai, bisa akses Kembali report profit and loss statement, lalu pilih template PL statement yang sebelumnya dibuat, lalu 'Ok'
Setelah klik OK, maka report yang muncul akan exclude drawer atau CoA yang dihapus ketika pembuatan template profit and loss statement.
Baca juga:
Most Viewed Posts