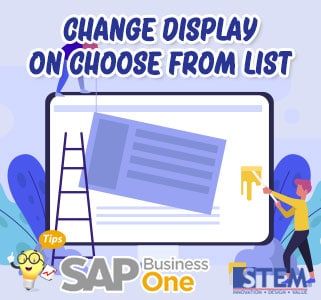 Pada tampilan Choose From List biasanya anda dapat melihat daftar master data seperti daftar item master, daftar vendor, atau customer, dimana pada daftar tersebut biasanya akan tampil informasi kode dan nama daripada data yang dimaksud, seperti Choose From List dari Item Master ini menampilkan kolom itemcode dan item description.
Akan tetapi tidak semua Choose From List menampilkan informasi kode dan deskripsi, terkadang hanya kode saja, atau hanya deskripsi saja. Seperti contoh berikut.
Pada kolom ke-4 Item Number informasi yang tampil adalah deskripsi barang, dan jika dicari pada Form Setting dari List of Production Orders tersebut tidak terdapat pilihan untuk menampilkan ItemCode.
Di dalam Form Setting ini kita bisa mengganti informasi yang tampil, yang tadinya deskripsi barang menjadi kode barang, yaitu dengan melakukan untick pada pilihan "Display Description" kemudian klik Update.
Setelah itu tutup layar List of Production Orders, dan buka kembali List of Production Orders kolom ke empat yang tadinya menampilkan deskripsi barang sudah berubah menjadi kode barang.
Jika anda ingin mengembalikan tampilan menjadi kode barang silakan tick kembali pada "Display Description". Jangan lupa untuk selalu tutup layar List nya terlebih dahulu dan buka kembali, setelah Update.