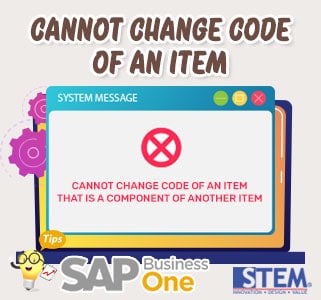 Saat meng-update Item Master Data, degan melakukan centang Sales/Inventory/Purchase Item ada peringatan "Cannot change the code of an item that is a component of another item".
Hal ini dikarenakan di dalam SAP terdapat Item Master Data yang sedang digunakan sebagai proses Produksi.
Misal, Anda ingin mengupdate status menjadi Sales Item, karena biasanya master itemnya merupakan Raw Material atau bisa dijadikan bahan pendukung produksi.
Agar pembaruan ini bisa dilakukan, ikuti langkah-langkah berikut:
Mencari Seluruh BOM yang terdapat item code yang error
Melakukan revisi sementara agar item code yang error tidak terdapat pada BOM, misalnya menghapus item dari BOM (Delete Row)
Merevisi Item Master data untuk Item code yang error dengan memberikan centang pada "Sales Item"
Mengembalikan BOM seperti semula dengan Add Row terhadap item yang baru di-revisi
Selesai