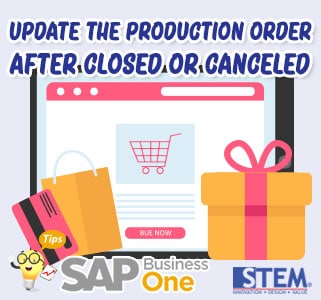 Production Order merupakan salah satu dokumen penting dalam proses manufaktur. Dokumen ini akan menunjukkan daftar bahan yang digunakan, penggunaan sumber daya, rute dan lain-lain.
Jika Anda memerlukan informasi tambahan yang tidak tersedia di layar standar Production Order SAP Business One, Anda dapat menggunakan User Defined Fields (UDF).
Selama proses produksi, dokumen ini dapat diperbarui. Dan ketika sudah ditutup atau dibatalkan, SAP Business One sekarang menyediakan kemungkinan untuk mengedit beberapa field, seperti "Remarks", "Pick and Pack Remarks" di footer, Attachment, "Reference Document" pada tab "Summary"  dan User-Defined Fields.
Namun, sebelum Anda dapat mengedit bidang tersebut, Anda harus memastikan beberapa hal:
Pada menu "Document Settings", untuk dokumen "Production Order", pilih "Allow Update of User-Defined Fields When Document Rows Are Not Editable" untuk mengaktifkan.
Pada menu "Authorization" , dibawah subjek "Production" – "Production Order", atur otorisasi "Update User-Defined Fields in Not Editable Rows" pada masing-masing pengguna.
Fitur ini tersedia di SAP Business One 10 FP 2008 dan SAP Business One 10 FP 2008, versi SAP Hana.