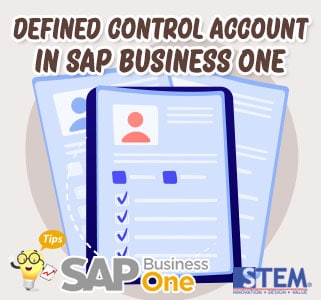 Account Control secara umum digunakan untuk me-metakan Business Partner kedalam Chart of Account. Account Control pada SAP Business One mempunyai beberapa keuntungan yaitu:
Kita dapat membuat Account Control di Chart of Account serta Business Partner di Master yang berbeda.
Tidak perlu membuat Kredit/Debit pada General Ledger.
Berikut langkah-langkah mengaktifkan Control Account di Char of Account:
Pada Menu Utama SAP Business One, pilih Menu Financial > Chart of Account.
Pastikan jendela Chart of Account dalam mode Find .
Tentukan akun yang akan dijadikan Control Account.
Lalu centang pada bagian Control Account.
Tekan tombol Update.
Akun sudah dapat digunakan sebagai Control Account.