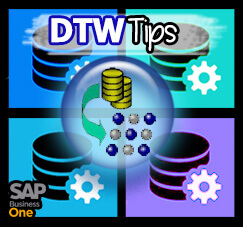 Seperti yang anda ketahui, Data Transfer Workbench untuk SAP Business One merupakan suatu aplikasi bantuan yang sangat kuat dan besar efeknya pada master data ataupun data transaksi anda di SAP Business One. Sebuah perjalanan panjang dengan Data Transfer Workbench jika setiap kali anda coba dan hanya muncul error dan error lagi, terutama ketika anda punya banyak sekali UDO.
Perhatikan trik berguna berikut ini:
Jangan gunakan karakter spasi  [] pada UDO
UniqueID

dan

nama

UDO.

Anda dapat mengecek nya di Tools > Customization Tools > Object Registration Wizard, pilih UDO, pilih salah satu UDO anda untuk di cek.
Pilih Update an existing object, klik Next, dan anda akan menemukan detil mengenai ID, Name, Type, atau Nama Table.
Contoh: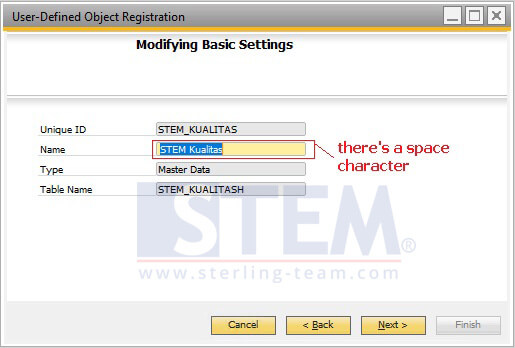 JIKA TERNYATA UDO ANDA SUDAH TERLANJUR ADA SPASI:
Ketika anda akan membuat atau generate UDO Template di DTW, akan muncul "Unhandled exception has occured in your application. Retrieving the COM class factory for component with CLSID… Class not registered (Exception from HRESULT:…)"

Atau, ketika anda ingin add/update master data atau transaction dengan Data Transfer Workbench (DTW), akan muncul error seperti:
"[UDO_NAME] has an invalid token" or'>' is an unexpected token. The expected token is '='. Line 1, position []. Silahkan cek langkah berikut untuk mereka ulang error tersebut:
Pilihlah salah satu UDO:
Pilih teks file yang akan digunakan untuk proses upload, dan klik Run Simulation terlebih dulu.
Maka, ingatlah untuk mengubah dan mengupdate nama UDO ketika di server anda sedang tidak ada user yang sedang login ke SAP Business One untuk mencegah hal seperti inkonsistensi data terjadi.