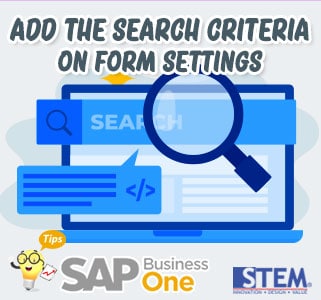 Pada SAP Business One, memungkinkan Anda untuk mengatur atau menambahkan Kriteria Pencarian tambahan untuk membantu dan mempermudah Anda dalam pencarian suatu list yang tampil. Pengaturan ini dilakukan pada menu Form Settings.
Sebagai contoh, kita akan membuat dokumen Purchase Order dan memilih Vendor berdasarkan List Business Partner. Ikuti Langkah berikut:
Pada menu utama SAP Business One Masuk ke dalah transaksi (Contoh Purchase Order).
Kemudian pilih vendor dengan menekan atau tekan Ctrl+Tab.
List Business Partner akan muncul.
Ketika jendela "List Of Item" muncul, kita bisa melihat kode BP dan nama BP. Untuk menambah kriteria / kolom informasi baru, pada menu bar pilih "Form Settings"

Jendela "List of – Settings" akan terbuka. Pada bagian tersebut, kita bisa menambah kriteria baru di baris kosong yang tersedia.
Untuk menambahkan kriteria baru, klik drop-down list, kemudian pilih kriteria yang sesuai.
Klik .
Klik OK.
Lalu, coba buka ulang List of Business Partner.

Kriteria yang tampil akan sesuai dengan kriteria yang di edit sebelumnya.