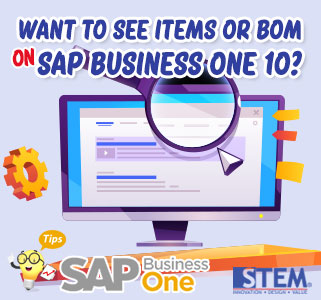 Pada perusahaan, karyawan tentu memiliki peranan masing-masing, ada bagian pembelian, penjualan, produksi, dan sebagainya. Masing-masing bagian tersebut tentunya punya kebutuhan yang berbeda-beda.
Pada versi-versi sebelumnya, secara default apabila barang tersebut barang produksi maka ketika Anda menekan tanda panah kuning, kita akan melihat Bill of Materials.
Pada SAP Business One 10, telah ditambahkan fitur baru pilihan dimana Anda bisa memutuskan, apabila barang tersebut adalah barang produksi, ketika Anda menekan tanda panah kuning, Anda ingin melihat Bill of Material atau Item Master Data dari barang tersebut. Anda dapat mengubah settingan tersebut dengan cara:
Pada menu utama SAP Business One, pilih General Settings > tab Inventory > tab Items
Ceklis pada pilihan Open Item Master Data Instead of Bill of Materials of a BOM Item when Selecting Link Arrow.
Tekan Update.
Dengan begitu masing-masing bagian di perusahaan dapat menentukan pilihannya, apakah ingin melihat Bill Of Materials atau melihat Item Master data? Tentukan pilihanmu sendiri di SAP Business One 10.
Catatan : Fitur ini hanya terdapat pada SAP Business One 10.