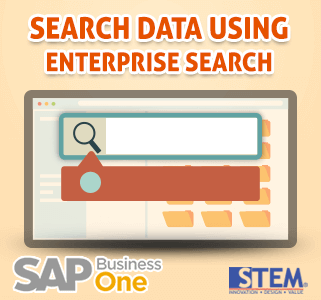 SHARE ON

Enterprise search ini tidak hanya bisa digunakan untuk mencari menu, namun user juga bisa menggunakan Enterprise Search ini sebagai alat bantu untuk mencari data.
User bisa mencari seperti (Deskripsi, amount, remark, dll) dari setiap business object yang ada di SAP Business One. Enterprise Search men support beberapa business object type dan business object seperti:
Master Data

Bin Location
Business Partner
Chart of Accounts
Contact
Employee Master Data
Item

Analytic Content, termasuk Crystal reports dan dashboards based on the SAP HANA database
A/R Transaction

A/R Credit Memo
Sales A/R Down Payment Invoice
Sales A/R Down Payment Request
Sales A/R Invoice
Sales A/R Reserve Invoice
Sales Delivery
Sales Order
Sales Quotation
Sales Return

A/P Transaction

A/P Credit Memo
A/P Invoice
A/P Reserve Invoice
Goods Receipt PO
Goods Return
Purchase Order
Purchase Quotation

Inventory

Inventory Goods Issue
Inventory Goods Receipt
Inventory Transfer

Service

Activity
Knowledge Base
Service Call

Sales Opportunity
Production

Bill of Materials
Issue for Production
Production Order
Receipt from Production

Banking

Incoming Payment
Outgoing Payment
User Defined Object
---
Misal anda ingin mencari data melewati enterprise search, anda bisa meng klik tombol berikut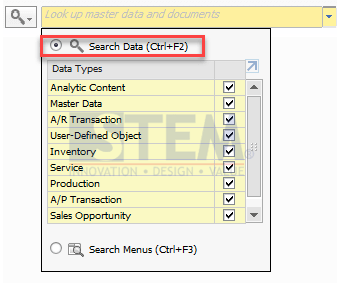 Lalu anda hanya tinggal mengetik data yang diinginkan, sebagai contoh user ingin melihat suatu item di item master data, user bisa mencentang data types "Master Data" dan mengetik item code atau item descriptionnya, seperti ini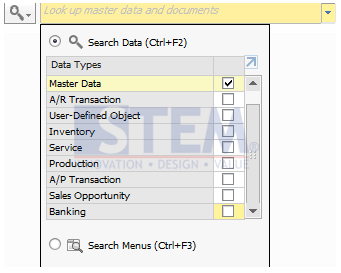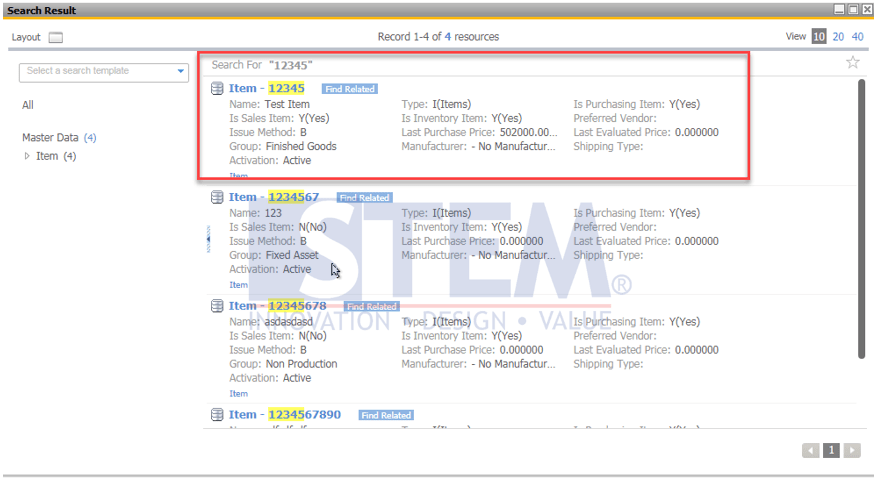 ---
Dan ketika anda menekan kode item tersebut, anda akan langsung menuju menu Item Master Data dengan kode item tersebut.
*tersedia untuk SAP Business One version for SAP HANA