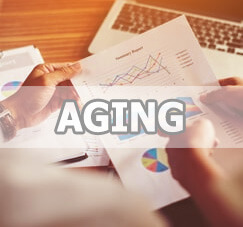 SHARE ON
Di SAP Business One, kapan saja Anda ingin memeriksa nilai GL Account Receivable (Financial – Chart Of Account) dan Penangguhan Piutang Pelanggan (Menu Business Partners – Business Partners Reports – Aging – Customer Receivable Aging) dengan masa lalu atau bulan lalu.
Ada fitur dalam Laporan Penyajian Piutang Pelanggan yang memberi Anda nilai perbandingan antara Total Nilai Piutang dan Total Piutang dalam laporan neraca.
Fiturnya ada dalam field 'Display Customers with Zero Balance'.
Jika Anda memilih opsi ini, fungsinya akan menampilkan semua customer yang memiliki Piutang pada periode lalu/bulan yang lalu, namun sudah dilunasi oleh customer pada tanggal hari ini. Fitur ini sangat berguna untuk membandingkan akun piutang neraca bulan lalu dan Customer Receivable Aging bulan lalu.
Berikut adalah screenshot cara mencentang opsi 'Display Customers with zero balance' dari 'Customer Received Aging'.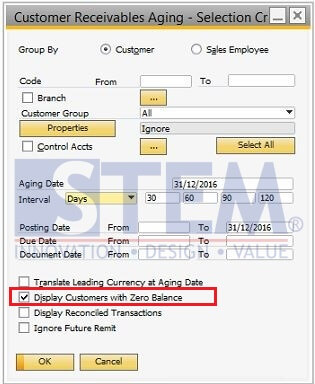 CATATAN : Fitur ini juga tersedia pada report 'Vendor Liabilities Aging'.
(Business Partners – Business Partners Report – Aging – Vendor Liabilities Aging)  
Hak Cipta © PT Sterling Tulus Cemerlang – 2017