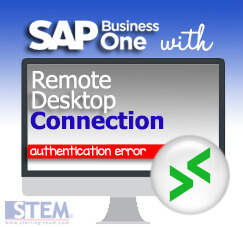 Anda dapat menggunakan dan mengakses aplikasi SAP Business One secara langsung dari PC/ laptop anda ataupun melalui akses RDP  (Remote Desktop Protocol) untuk menghubungkan anda ke Terminal Server. Dan, jika anda ingin mengakses SAP Business One seperti biasanya melalui TS, dan tiba-tiba saja, anda tidak bisa mengaksesnya, dan kebetulan anda baru saja melakukan windows update. Ketika anda mengakses, akan muncul pesan error di layar Remote Desktop Connection anda. Error nya adalah "An authentication error has occurred. The function requested is not supported." Dan di bawahnya terdapat keterangan "This could be due to CredSSP encryption oracle remediation."
Error tersebut bisa terjadi, karena terdapat perbedaan security update pada windows anda, dan hal tersebut disebabkan karena adanya windows update di server anda sedangkan PC / Laptop anda belum terupdate ataupun sebaliknya.
Cobalah solusi berikut ini, buka menu Command Prompt, klik kanan dan pilihlah opsi Run As Administrator.
Lalu ketikkan syntax berikut:
REG ADD HKLM\Software\Microsoft\Windows\CurrentVersion\Policies\System\CredSSP\Parameters\ /v AllowEncryptionOracle /t REG_DWORD /d 2
Tekan tombol enter, dan tunggulah beberapa saat hingga muncul pesan "The operation completed successfully."
Silahkan coba akses kembali SAP Business One anda melalui Remote Desktop Connection ke terminal server anda seperti semula, seharusnya sekarang sudah tidak ada masalah lagi, dan anda dapat kembali mengakses SAP tanpa kendala. 😊