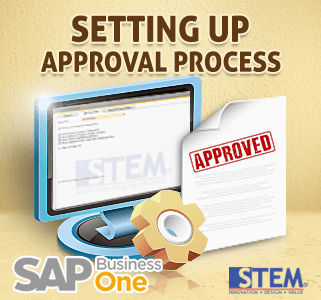 SAP Business One allows you to set up various approval process based on the needs of your company. You can set approval process for various marketing documents and with various conditions. But, how to set up the approval process?
To activate the approval process in SAP Business One just go through Administration > System Initialization > General Settings > BP. On the BP tab, tick Enable Approval Process in DI

To define the users that should approve the marketing documents. First you must create all authorizers as users in SAP Business One. To add several authorizers just go to Administration > Approval Process > Approval Stages.

Go to Administration > Approval Process > Approval Templates to create an approval template with various approval process.


The Originator tab used to specify users who require approval for generate or update the relevant documents.
Documents tab used to choose which document will be processed using this approval process.
Stages tab used to choose one or more approval stages.
Terms tab used to choose between always (to always trigger the approval process) or when the following applies (to define specific conditions for triggering the approval process)
Then you can click add to finish the setting up process.