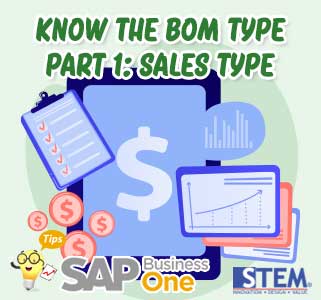 Bill of Materials (BOM) is generally used for the production process, where this BOM contains the components (either items or resources) needed to produce an item. The BOM that we know is called the Production BOM type. However, apart from Production BOM, there are also other BOM types: Sales BOM, Assembly BOM, and Template BOM. These BOM types are used for marketing documents and do not go through the production process so there are no resource components in them. The components in the BOM are assembled to form the parent item.
In this part 1, we will explain BOM Type: Sales.
This BOM type can be seen in the Production – Bill of Materials menu, in the BOM Type field.
The Sales BOM is used in sales documents. The parent item must be a sales item. For example, company XYZ sells DIY furniture kits (e.g.: tables). The resulting item (parent item) is the furniture item (table), while the component items are inventory items that make up the table (e.g.: boards, drawers, table legs, wheels, etc.). When we select a parent item (table) in a sales document, all of its components will appear as sub-items. The number of parent items and sub-items can still be updated. However, we cannot delete existing sub-items or add new sub-items to the parent item in the sales document.
We can also check the Hide BOM Components in the Printout option so that only the parent item appears when we print the document.
Also read:
Most Viewed Posts