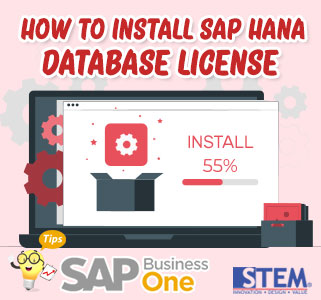 Today, most companies implement SAP Business One using the SAP HANA database. To run SAP HANA on production systems you need valid SAP HANA License key.
When you first install the HANA database, a temporary key will automatically be installed, but this key is valid only for 90 days and you should request permanent license keys before the expiry of 90 days period after installation.
You can request the license key from the SAP Service Marketplace. You need to provide the information on the Hardware Key and also the System ID.
After you got the valid license key (usually in the text file), the following are the steps to install the license from HANA Studio:
Launch the SAP HANA Studio and login to the database. The database user that will use to log in must have the LICENSE ADMIN system privilege assigned.
Right-click on the HANA database and select Properties.

Select License in the following screen, here you can see the system license information.
Choose the Install License Key button for installing the license key.
Locate the prepared license key and select it.
A message will appear after a successful installation, the system license page should have been updated with the new license information.
Note: This article only applies to SAP Business One on HANA.
Also read:
Most Viewed Posts